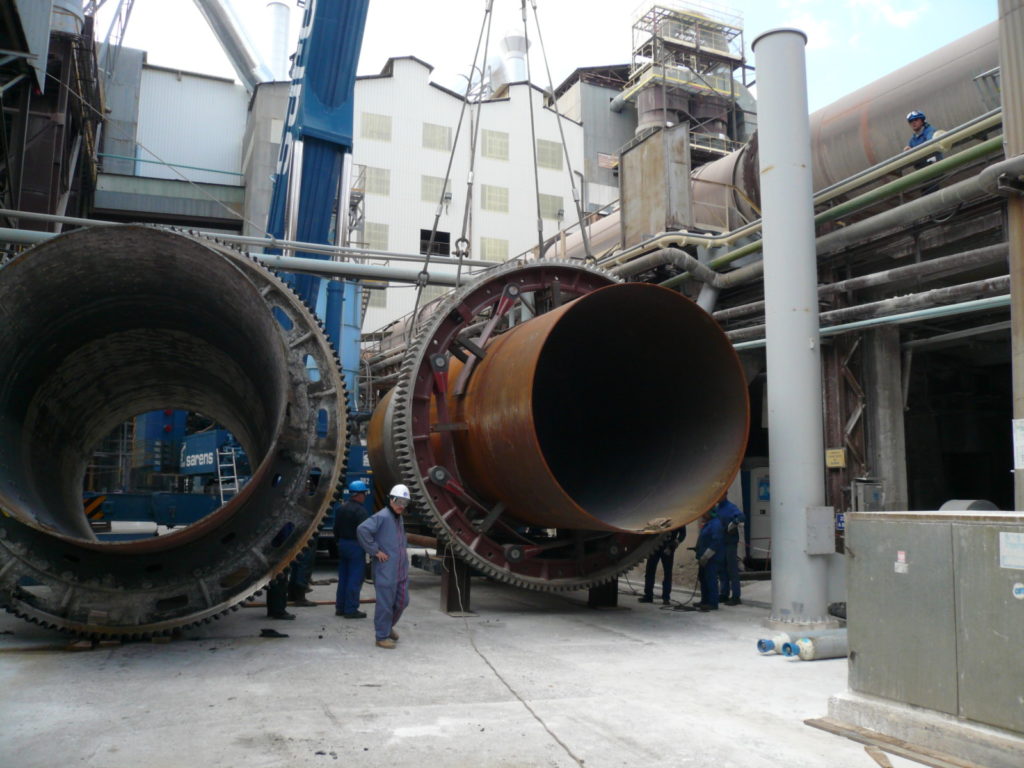 Equipment: Calciner
Sector: Alumina / France
Project: Refurbishment of a calciner rotary kiln
Duration of work : approx. 3 weeks.
SERCEM INDUSTRIE is well known in the field of heavy mechanics for 50 years in the region of Lyons in France . 
Our customers are renowned international operators such as Lafarge- Holcim , Heidelberg ,  , Alcoa , Rusal etc ..
They are all world leaders in the field of mining , cement & mineral chemistry .
Our know-how is the mechanical improvement of production equipment such as rotary kilns , rotary dryers , mills, crushers etc…
As such , we present you an achievement on behalf of one of our client in the field of alumina 
Project: Renovation of a rotary kiln 
Sercem Industrie produced the design, calculations, studies, supply ,on-site assembly and commissioning assistance of : 
Sercem supplied and changed a shell section with girth gear, pinion and housing, the tyre and its pads, as
well as installing the drive system on the central kiln support. This was a typical turnkey project for us.
Sercem managed the design work, the manufacture of replacement parts, on-site assembly and
commissioning assistance.
► Manufacturing.
A shell section under tyre / Thickness.50mm/Diam.2895 x Lg.6800mm

An inner diameter of the tyre adapted to the floating pads

Ext.diameter 3430/lg.560 mm

Adjustment of the clearance between the tyre and the shell

Pre-adjustment of the tyre run out

Pre-assembly in the workshop on the shell section

Floating pads with welding of the stops and pavement stops

Temporary welding of hoops and hoop stoppers

Shell reinforcement with cross braces at both ends

Supply of a gear gear ( Pitch diameter : 4672 mm )

One pinion ( 17 teeth / module 32 )

8 sets of spring plates 

A girth gear housing with seal.
► Setting up on site
Installation of the support structures for the shell section

Survey of the alignment operation (cold kiln before work)

Rollers adjustment according to the alignment readings

Tracking and tracing of cuts

Removal of the girth gear housing

Installation of the supports kiln section and the scaffoldings

Installation of cross and cradles

Setting the kiln

Cutting of the shell

Removal of the shell with its tyre and girth gear on the ground for scrapyard

destination     

Welding chamfers on the kiln section

Rollers adjustment according to the new tyre outside diam.

Installation on the ground of the girth gear ring with its spring plates on the

new shell section (the spring plates are only pointed and will be welded

definitively after the run out adjustment and the concentricity).

Installation of the new shell with its tyre and the girth gear 

Clamping and alignment

Welding operations of the shell section

Ultrasonic welding testing

Adjustment of the tyre runout
Pads final welding .
Adjustment of the support rollers to their new position
Girth gear adjustment ( runout and concentricity )
Spring plates welding on the shell
Runout verification and girth gear concentricity
Adjustment Girth gear / pinion
Installation of the friction tracks on the girth gear
Installation the new girth gear housing
Installation of the housing seals on the girth gear
Dismantling cradles and supports
Cleaning of the site
► Commissioning Assistance