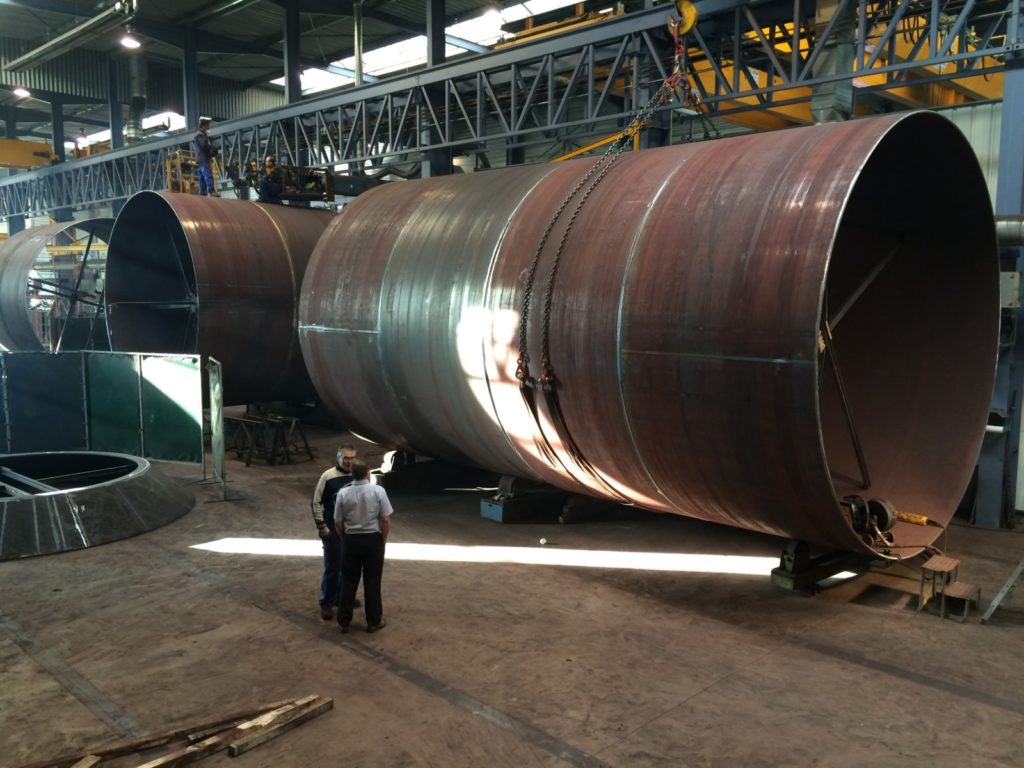 Equipment: (3 Dryers / Bauxite / Rep. of Guinea)
Project: Refurbishment of three bauxite dryers
We were called to refurbish equipment which had been operating in degraded mode for several years.
For the customer, we proposed a complete audit of each unit, recommendations for the short- and medium term, which would involve heavy-duty work depending on production requirements.
Once the 3-year work phase was complete, we needed to stabilise each unit.
The second phase involved improving productivity by managing suitable preventive maintenance.
Refurbishment of 3 bauxite dryers : execution
1/ On-site audit during operation and shutdown of 3 bauxite dryers
Unit dimensions: Diameter 4.6 m x length 46 m on 2 supports.
Capacity: 950 T/h
– Supports at front and back end
– Tyres and rollers
– Dimensional checks
– Tyre liner inspections
– Tyre slide readings
– Inspection of roller wear & cylindrical form
– Triangulation check
– Inspection of support frames
– Inspection of bearings
– Inspection of shell (deformation & thickness mapping)
– Inspection of gear drives (girth gear & drive pinion)
Following the audit and interpretation of data, we drew up an advisory report and a list of recommendations intended to stabilise the dryers.
2/ Order for Supplies and on-site Work
– Readjustment of tyres
– Machining of tyres and roller bearings on site
– Upgrade of seals
– Repairs to hydraulic thrust blocks
– Supply of five shell sections for the dryers
– On-site assembly of shells (2-year work schedule)
– Machine adjustments
– Supply of internal lifters for the three units
– Assembly of lifters on the units
(2-year work schedule)
– Supply of process material feed coils
– Assembly of feed coils
3/ Conclusion of master maintenance agreement for the three units:
After completing the heavy work to stabilise the three units, it was jointly agreed to implement a preventive maintenance policy for the equipment.
To this end, a master technical support agreement was signed for a 3-year term, including training for local personnel.