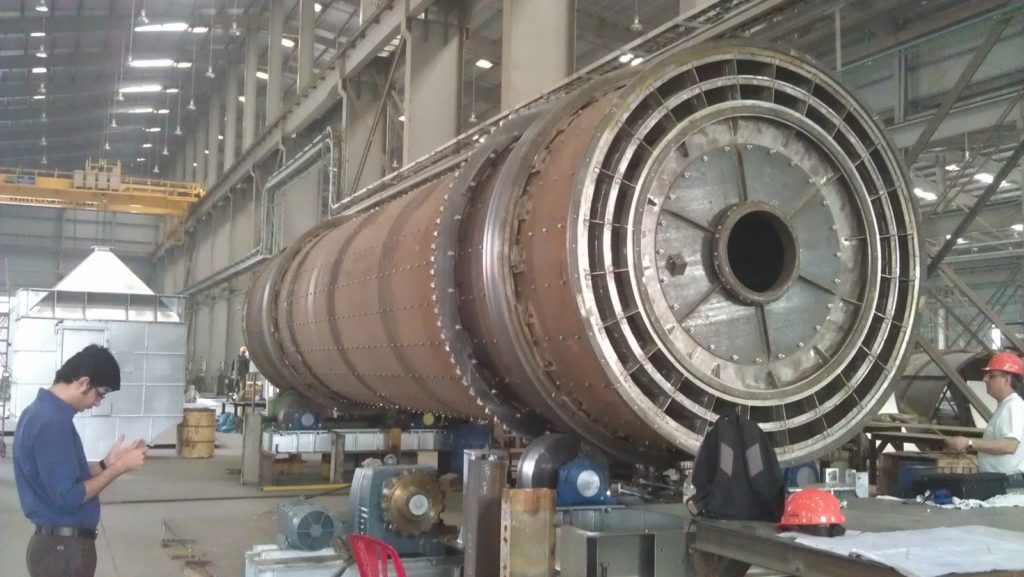 Equipment: Kiln
Sector: Petrochemicals / India
Project: Engineering: Design & studies, production monitoring on behalf of our customer Supervision of assembly and commissioning assistance.
SERCEM INDUSTRIE is well known in the field of heavy mechanics for 50 years in the region of Lyons in France . 
Our customers are renowned international operators such as Lafarge- Holcim , Heidelberg ,  , Alcoa , Rusal etc ..
They are all world leaders in the field of mining , cement & mineral chemistry .
Our know-how is the mechanical improvement of production equipment such as rotary kilns , rotary dryers , mills, crushers etc…
As such , we present to you an achievement on behalf of one of our french clients who is setting up a factory in India .
Sercem managed a project on behalf of a French operator setting up a subsidiary in India. The project was managed by a local engineering office, except for the kiln, which we managed directly with the French customer.
As customs duties were high, the unit had to be manufactured locally. Sercem has managed local manufacturing in other countries for many years, so we were up to the challenge.
Project: Supply and design of a rotary kiln
Specifications:
With assistance from the local provider firm, we sourced Indian subcontractors, selecting a panel of three who we consulted on behalf of our customer.
This 2-year project was managed by our local office.
This was a successful project that helped us get to know Indian manufacturers and local customs more closely. A first for the firm and beneficial to our experience.
Scope of services
Sercem Industrie supplies the following services :
Technical design of the rotary kiln

Identification of an Indian suppliers panel

Selection of the final Indian supplier
Manufacturing and quality control, including
Definition of Quality plans

Manufacturing Quality Insurance and follow up

Inspections as required

Testing and marking as required

Periodical reporting
Documentation for equipments described in requisition, including
Equipment and components technical information

Details on transport, storage and erection.

Operation manual.

Controlling check list
Maintenance instruction, spare part supply test certificates as required: Material certificates, etc…
The services include in particular:
Manufacturer welders qualifications and welding procedures, as far as necessary

Expediting documents 

Inspection by the french customer inspectors .