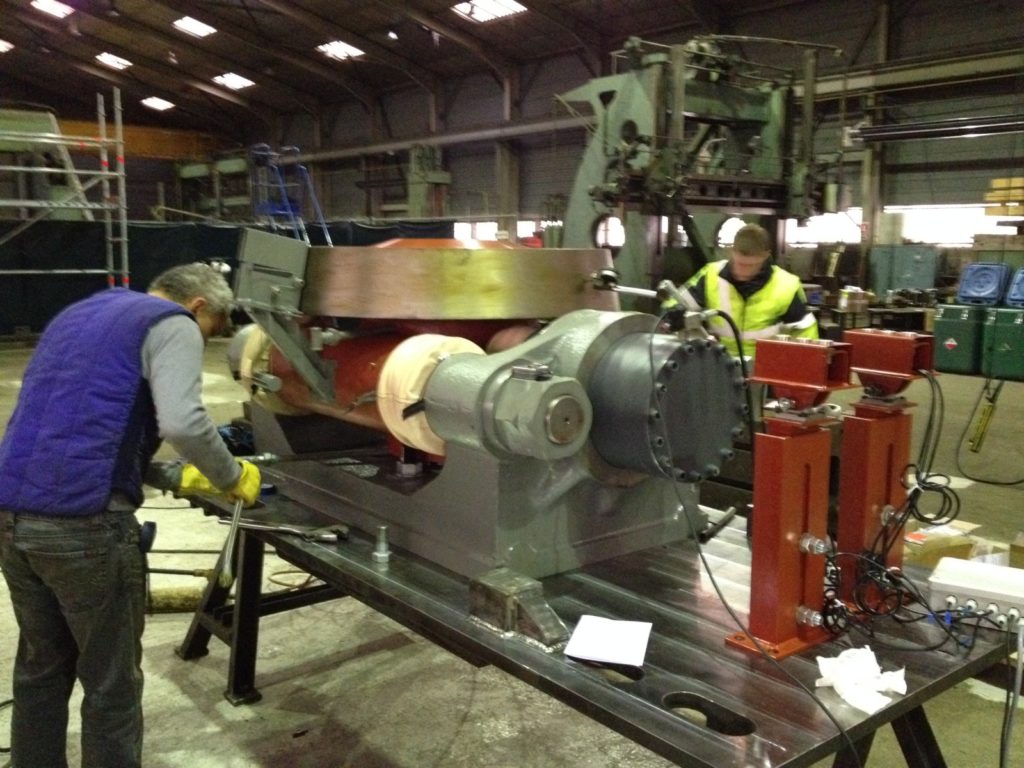 Equipment: Rotary kiln
Sector: Cement / Ethiopia
Project: Supply of complete hydraulic thrust block system: 100 T on a cement kiln
SERCEM INDUSTRIE is well known in the field of heavy mechanics for 50 years in the suburb of Lyons in France . 
Our customers are renowned international operators such as Lafarge- Holcim , Heidelberg, Alcoa , Rusal etc ..
They are all world leaders in the field of mining , cement & mineral chemistry .
Our know-how is the mechanical improvement of production equipment such as rotary kilns , rotary dryers , mills, crushers etc…
SERCEM INDUSTRIE supplies also equipment for the devices here above mentioned .
As such , we present you a realization on behalf of one of our clients located in Ethiopia for a cement plant .
Sercem Industrie delivered a full installation to replace the existing one, which no longer met the requirements of the kiln.
We received the technical data from the customer during the request for quotations phase.
Sercem Industrie was selected to manage the whole project, i.e. design calculations and studies, manufacture, factory testing and delivery.
We specified all equipment supplied, comprising the hydraulic ram and hydraulic unit, the controller and sensors, the electrical connections and mechanical devices.
Maintenance and user instructions were provided in the delivery, along with on-site assembly drawings.
Supply of a whole hydraulic thrust block unit with the following characteristics
. 
Sercem Industrie provides a whole equipment in place of the existing one which no longer corresponds to the characteristics of the kiln.
The technical data are provided by the customer for the tender.
We define the entire scope of supply consisting of :
    ⁕ Calculations and studies
Manufacturing
:
    ⁕ the cylinder
    ⁕ the hydraulic power unit
    ⁕ the automaton and the sensors
    ⁕ electrical connections
    ⁕ mechanical components
    ⁕ Tests in the workshop
    ⁕ Delivery
Maintenance and operating instructions are included in the delivery, as well as a site assembly plan.
Quality Documents
    – Chemical analysis of materials
    – Mechanical testing
    – Non-destructive testing (hardness, UT, magnetic particle inspection)
    – Dimensional checks