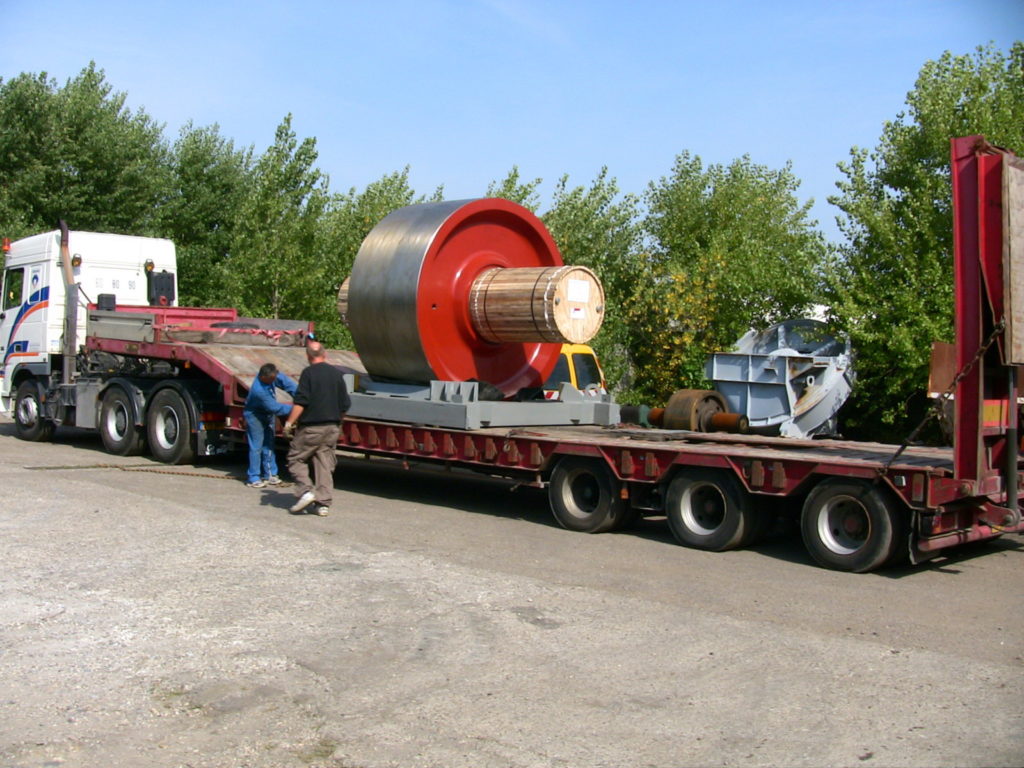 SUPPLY OF A KILN CEMENT ROLLER
Roller : Diam.2400 mm .
Weight : 40 T
SERCEM INDUSTRIE is well known in the field of heavy mechanics for 50 years in the suburb of Lyons in France . 
Our customers are renowned international operators such as Lafarge- Holcim, Heidelberg, Alcoa , Rusal etc ..
They are all world leaders in the field of mining , cement & mineral chemistry .
Our know-how is the mechanical improvement of production equipment such as rotary kilns , rotary dryers , mills, crushers etc…
SERCEM INDUSTRIE supplies also spare parts for the devices here above mentioned .
As such , we present you a recent realisation on behalf of one of our clients . A Lafarge Holcim Group cement plant .
It is a kiln cement roller with the following characteristics .
Roller : Diam. 2400 mm
Weight : 40 T
MANUFACTURING ACCORDING TO OUR TECHNICAL SPECIFICATIONS

FORGED STEEL 30CrNiMo8 (NF EN 10083-1) for the shaft

FORGED STEEL 42CrMo4 (NF EN 10083-1) for the roller

MATERIAL CERTICATE ACCORDING TO NF EN 10024-3.1B

MECHANICAL TRIES REPORT

HEAT TREATMENT REPORT, OBTAIN 220-260 HB of hardness .

ULTRASONIC TEST REPORT ACCORDING TO NF EN 10228-3 CLASS 3

( 3<TFP<5 MM)

DIMENSIONAL CHECK REPORT

FORGING OPERATION REPORT

SUPPLY 4 SAMPLE (1 FOR THE FORGE, 3 FOR THE CUSTOMER)
For this specific case , the client provided us with a general drawing .
The dimensions of the roller and the shaft have been collected on the site by our technical team .
The design work and the manufacturing plans have been provided to the customer .
Manufacturing 
:
The roughed roller and the shaft have been manufacture through a forge factory following our  technical specification .
We made the final machining and the assembly by shrink fitting of the both parts in our workshop .
Dimensions :
 – Roller : Diam.2400 mm x lg.1200 mm
 – Shaft : Lg. 3540 mm x Diam. 820 mm
 – Whole Weight : 40 T