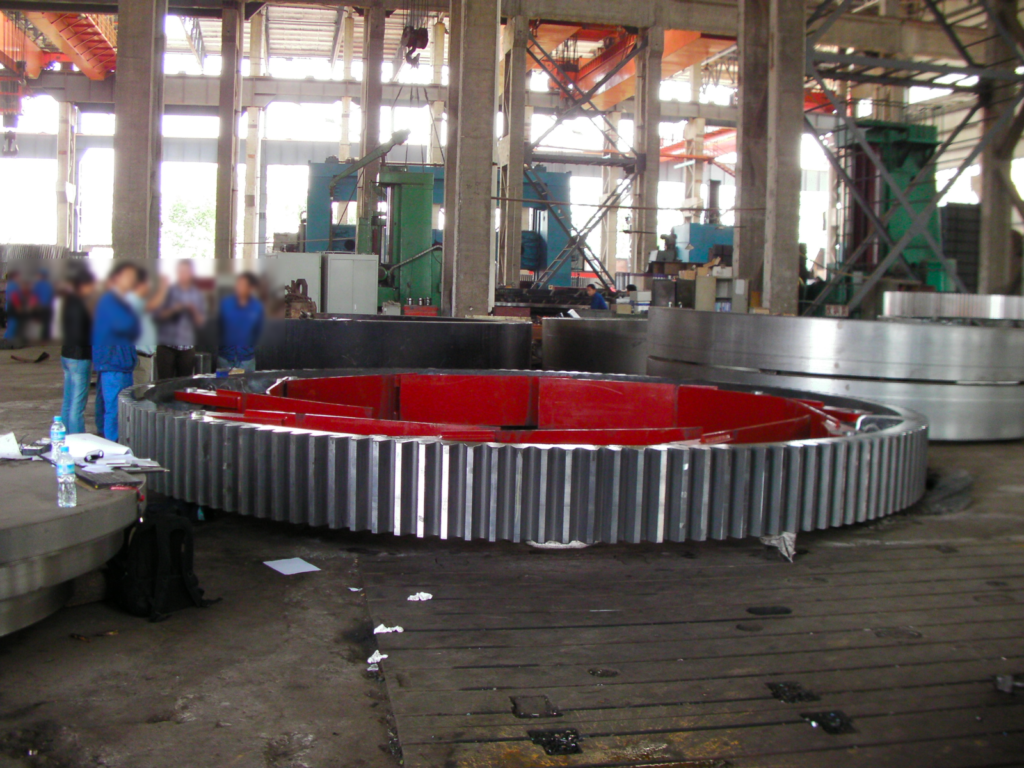 Part : Kiln Girth gear and Pinion / 152 Teeth / Mod. 40
Sector : Cement (Ethiopia)
SERCEM INDUSTRIE is well known in the field of heavy mechanics for 50 years in the suburb of Lyon in France . 
Our customers are renowned international operators such as Lafarge- Holcim , Heidelberg ,  , Alcoa , Rusal etc ..
They are all world leaders in the field of mining , cement & mineral chemistry .
Our know-how is the mechanical improvement of production equipment such as rotary kilns , rotary dryers , mills, crushers etc…
SERCEM INDUSTRIE supplies also spare parts for the devices here above mentioned .
As such , we present to you an achievement on behalf of one of our clients who operates in the field of cement and is located in Ethiopia .
This time it involves the supply of a girth gear and pinion for a rotary kiln .
 ►THE SUPPLY :
A Girth gear :142 teeth , Module 40 .

Pitch diameter : 6080mm

A pinion :27 teeth , Module 40 .

Pitch diameter : 1080mm

Ten sets of spring plates

The drawings of the girth gear , the pinion and the accessories
 ►Manufacturer's file :
  Girth gear and Pinion
 Chemical analysis following NFEN 10204 type 3.1B

 Mechanical tries following NFEN 10204 type 3.1B

 US control NFEN 10228-3 1A and 3B Class 2

 Dimension control

 1 ball testing in 4 points 90° on each face .
  Spring Plates
 Chemical analysis following NFEN 10204 type 3.1B

 Mechanical tries following NFEN 10204 type 3.1B

 Welding control ( sweating control 100 % )

 Dimension control